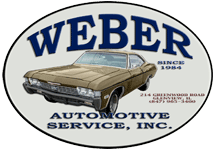 APPOINTMENT
Hours


Mon

9:00AM - 5:00PM

Tue

9:00AM - 5:00PM

Wed

9:00AM - 5:00PM

Thu

9:00AM - 5:00PM

Fri

9:00AM - 5:00PM

Sat

Closed

Sun

Closed

24 Hour Towing: 847-272-2177

Weber Automotive Service

3030 N Lake Terrace
Glenview, IL 60026
847-965-3400
Top Quality, Affordable Auto Repair Services Near Des Plaines - Call Today 847-965-3400
When drivers in Des Plaines need cost conscious auto repairs they call Weber Automotive Service. Since 1984, Weber Automotive Service has been delivering professional and competitively priced auto repairs to the Des Plaines area.
Weber Automotive Service provides top-quality auto repairs to keep foreign or domestic cars and trucks running at peak performance. Call Weber Automotive Service near Des Plaines at 847-965-3400 for fast, affordable auto repairs. Customer satisfaction is our goal!
TESTIMONIALS
Pat Weber recommended Nokia all-weather tires. Later that year I drove through a rural area after a large snow storm with roads that had not yet been plowed. The performance of the Nokia tires was noticeably superior. I was glad that I obtained these tires and have recommend them myself.
Jeff B.

, 07/20/2021
READ ALL REVIEWS