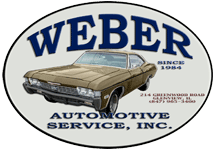 APPOINTMENT
Hours


Mon

9:00AM - 5:00PM

Tue

9:00AM - 5:00PM

Wed

9:00AM - 5:00PM

Thu

9:00AM - 5:00PM

Fri

9:00AM - 5:00PM

Sat

Closed

Sun

Closed

24 Hour Towing: 847-272-2177

Weber Automotive Service

3030 N Lake Terrace
Glenview, IL 60026
847-965-3400
Weber Automotive Service offers auto repair and maintenance services to Wheeling, IL
In 1984, we began providing our customers in Wheeling, IL with professional auto repair and maintenance services. Our well-trained team of professionals is extremely knowledgeable about all different makes and models of vehicles and the repair and maintenance required to get your car in tip-top shape. We believe that it is important that our Wheeling customers understand what repairs we are suggesting and why. At Weber Automotive Service, it is important to us that when you drive away you feel confident in your car or truck.
No one wants to put their car or truck in the shop, but if you must, come to Weber Automotive Service where we put integrity and service first. Call 847-965-3400 to schedule an appointment today.
TESTIMONIALS
Pat Weber recommended Nokia all-weather tires. Later that year I drove through a rural area after a large snow storm with roads that had not yet been plowed. The performance of the Nokia tires was noticeably superior. I was glad that I obtained these tires and have recommend them myself.
Jeff B.

, 07/20/2021
READ ALL REVIEWS